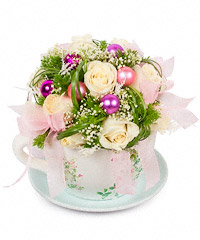 Christmas is a unique time of year in the United States where Santa, elves, Christmas trees and tradition hold a special place in the hearts of people all over the country. Families who are spread far and wide try to come together for the holiday to share in the joy and festivities but when they can't there is a way to stay in touch and let them know you are there in spirit.
When you can't be with your loved ones during the holidays let them know you are thinking about them by sending a beautiful bouquet of their favorite flowers put together with a seasonal twist. The experts at MegaFlowers.com knows just how to put the perfect combination of deep red roses, luscious greenery and gold accessories to create a festive centerpiece for the holiday table or add a touch of the whimsical with a snowman made out of chrysanthemums.
Shoppers can choose from a wide array of Christmas flower arrangements that include wreaths, trees, basket pieces, and unique representations of the holiday for any religious, company or family event. You can search by price, color, flower type or size and then select your favorite and choose the delivery address and date so it gets there just when you want it too.
Start the Christmas season off right with a mantel piece favorite including ball decorations, sprigs of holly, ribbons and a large candle right in the center. The best part is that even once you choose an arrangement, you still have the ability to customize it by adjusting the quantities of the items used. Recalculate the price and you are ready to head to the secure online checkout and have it sent on its way. Wreaths make a perfect gift for the boss, co-worker and employee when you want to wish them a "Merry Christmas" in a professional and unique way.
Spice up the romance and prepare to pop "the question" by setting the ring off with flowers like white roses, red rose buds and orchids. There is no end to the creative possibilities when you take advantage of all the options that MegaFlowers.com has to offer. They make it easy with 24-hour online ordering, customization and delivery to just about anywhere in the world. By partnering with the finest floral companies in the industry all around the globe, every arrangement is made fresh by technical experts and then delivered on time in a professional and delicate manner. This ensures customer satisfaction on the part of the buyer and the receiver who will both enjoy the final results.
Even if your loved one is overseas during the season give them a taste of home and send them Christmas flowers that will brighten their day and remind them that distance is nothing between family and friends. Get online today and look at everything that MegaFlowers.com has to offer and start planning your floral deliveries to relatives old and young, near and far.